The Light Duty Rescue truck is a versatile support vehicle with plenty of options. Customize this roll-up rescue unit with the optional 1500-lb Extendo-Bed to ensure that all gear is within reach. It is available with either a 9-foot or 11-foot body which gives you the flexibility to customize your storage compartments in a way that would best suit your equipment.
This high-performance truck is the ideal response vehicle for your EMS and first response departments. You can depend on this vehicle to get your crew safely to emergencies, and trust that they will be well-equipped to respond to any type of situation.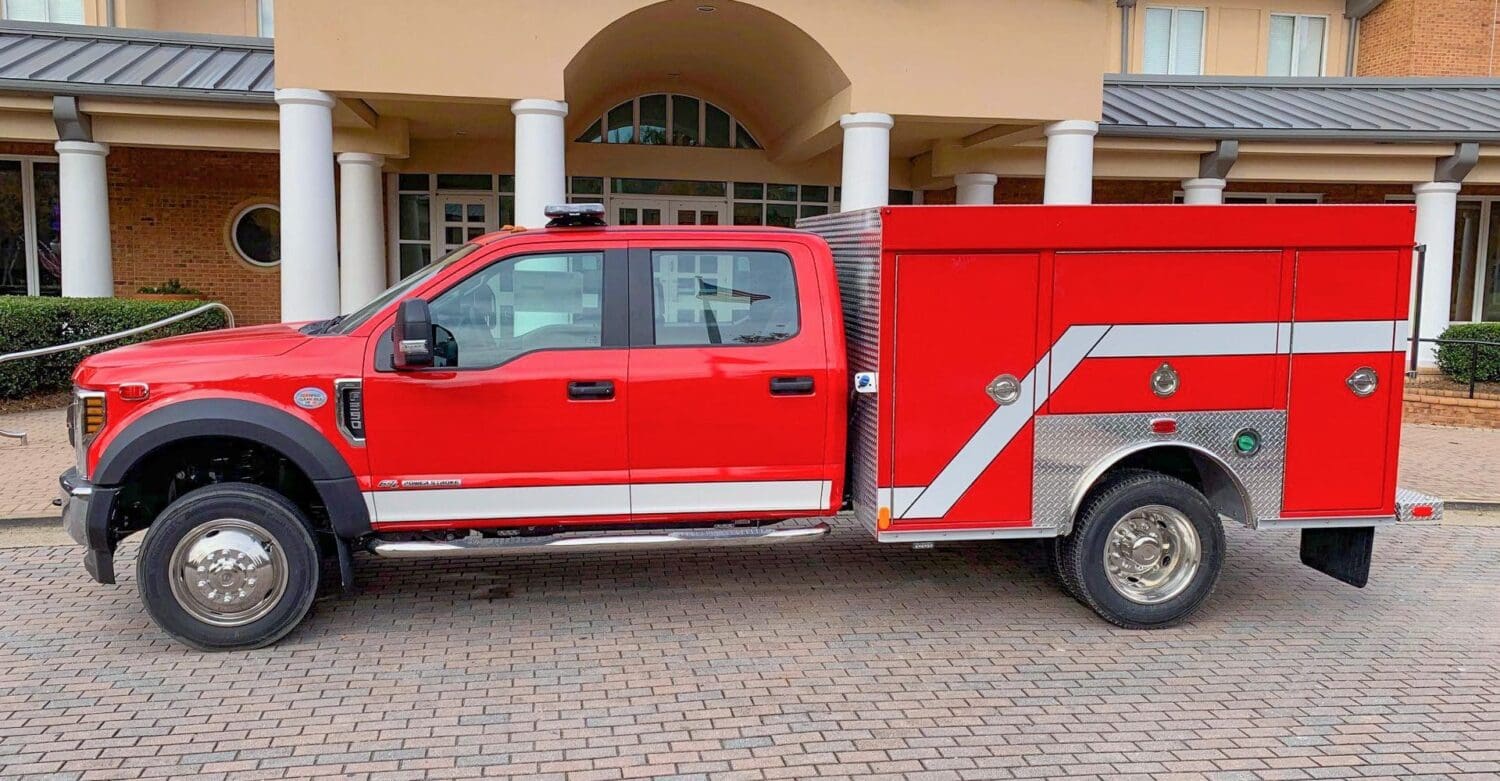 Industry Experts
Fouts Bros. are committed to delivering a better-built truck that is designed to meet your department's specific needs. They are a family-owned company with over 65 years of experience in manufacturing and selling trucks, and over 30 years of experience manufacturing fire and EMS vechiles. Fouts Bros. have second and third generation family members highly involved in the day-to-day management of the company, who have been listening to customers for years. They are committed to providing their customers with vehicles that are the best in their industry, while developing new products and vehicles that meet all of your needs.
Cost-Effective
Fouts Bros. may take affordability into high consideration, but rest assured that their vehicles are built with the best fire brands in the industry. They've tested their processes over the years to ensure that your truck is built using the best materials at a lower rate. How do they do it? 65 years of industry experience, a quality engineering department, and a well-oiled production facility.
Readily Available
Fouts Bros. is committed to delivering your truck to you when you need it. With their streamlined 10-week production process that is fine-tuned for most of their standard fire truck designs. They are committed to ensuring that fire and EMS crews have the vehicles they need in order to get the job done, and have made these vehicles more affordable to make them more accessible to municipalities on a tight budget.
Specifications
Chassis
FORD:
• F-350 (Standard)
• F-450
• F-550DODGE:
• 3500
• 4500
• 5500
Body
108″ Aluminum Body
Compartments
Adjustable shelves, (1) Standard in each compartment
Vented Compartments
Lighting/Siren
Whelen LED Lighting Package
100-watt Whelen Siren
Doors
Roll-Up or Double Panned Hinged Doors
Engine/Transmission
6.7L Diesel Engine
Automatic Transmission
Warranty
10 Year Warranty
Additional Features
Extended Cab (Ford Only)
Four Door Crew Cab
SCBA Seating
Multiple Winch/ Brush Guard Combinations
Generators and Inverters Available
Scene Lighting
Enclosed Rear Compartment
1500-lb. Extendo Bed
Scene Lighting
Light Towers
Air Systems
Hydraulic Rescue Tools
Special Compartment Layouts
Transverse Compartment
12,000 lb. winch with brush guard