Type I Ambulances to Meet Your Needs
Osage Ambulances offers two models of Type I Ambulances: the Warrior and the Super Warrior. Each Type I ambulance is built off of the frame of light-duty pickup trucks and offers a variety of features to accommodate your department's needs. All Osage Type I ambulances feature seamless body construction, EMT and CPR seats, squad benches, and pass-through windows between the cab and module.
Type I Ambulances are ideal for departments looking for a standard emergency response vehicle, and Osage's ambulances are built to the highest quality specifications and offer the ability to customize to meet the needs of the customer.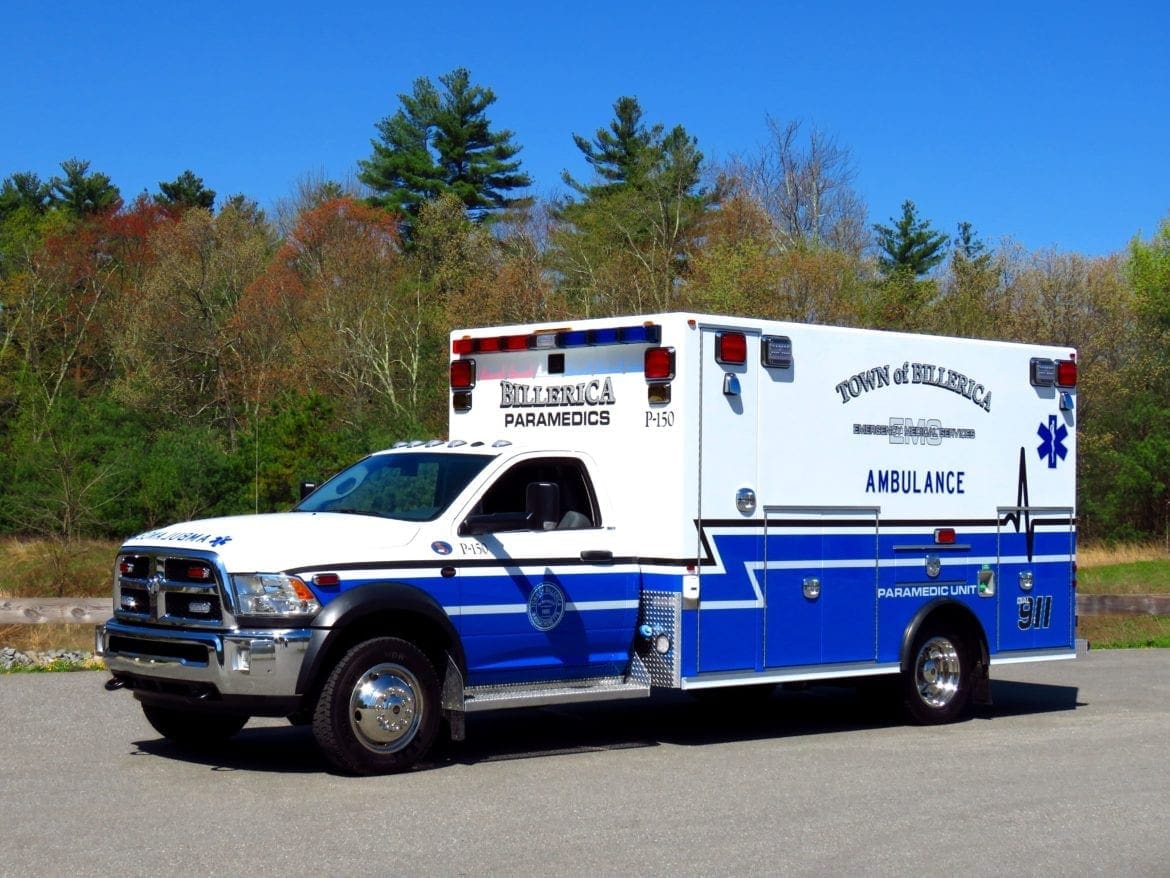 Osage Type I Ambulance Models
Warrior Type I Ambulances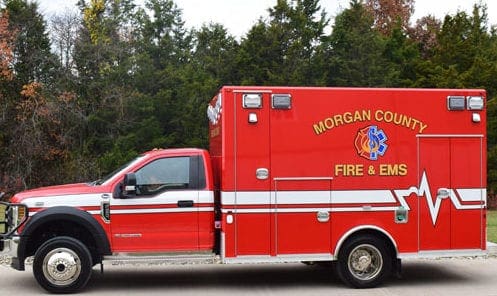 Osage's Warrior Type I ambulance is built on a Ford F-450/F-350 or Dodge Ram 4500 chassis and offers many of the features of other Osage models, but in a slightly smaller package. The Warrior is built on an entirely seamless body, using Osage's quality construction process. This model is 148″ long and 96″ wide and is a solid choice for any department. No matter what, Osage ensures your Type I Warrior ambulance is ready to answer the call for service!
Super Warrior Type I Ambulances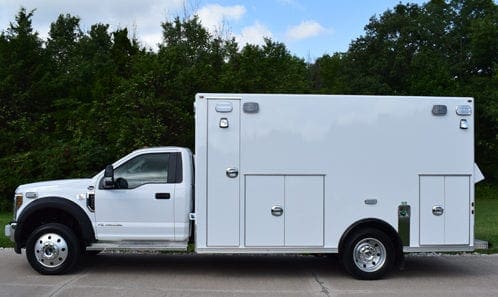 The Super Warrior Type I Ambulance is the largest ambulance offered by Osage. This Type I ambulance offers maximum durability and work space, making your crew and passengers safer and more secure. This module is 168″ long with a width of 96″ and is available on a variety of chassis, such as the Dodge Ram 4500, International, or Freightliner. The Super Warrior is built with superior and consistent craftsmanship, using a seamless body construction and offering various seating options. This model offers and pass-through window between the cab and the patient compartment, and boasts a GVWR of 16,000 pounds, preparing your department for any call that comes your way.
Osage Type I Model Specifications
| | | |
| --- | --- | --- |
| | Ford F-450 | Dodge Ram 4500 |
| Wheel Base (w/ Dual Rear Wheel) | 169″ | 168.5″ |
| GVWR | 16,500 lbs | 16,500 lbs |
| Engine Type | Gas or Diesel | Gas or Diesel |
| Transmission | Torqshift 6-Speed Automatic w/ Tow/Haul feature | Aisin 6-Speed Automatic |
| Drive Type | 4×2 or 4×4 | 4×2 or 4×4 |
| Module Dimensions | 148″ L x 83″ H x 96″ W | 148″ L x 83″ H x 96″ W |
| Interior Headroom | 68″ | 72″ |
| Aisle Width | 49″ | 49″ |
| Drawings | Download | Download |
| Features | Download | Download |
| | | |
| --- | --- | --- |
| | Ford F-450 | Dodge Ram 4500 |
| Wheel Base (w/ Dual Rear Wheel) | 193″ | 192.5″ |
| GVWR | 16,500 lbs | 16,500 lbs |
| Engine | 6.7 L Turbo Diesel | 16.7 L I6 Cummins Turbo Diesel |
| Transmission | Torqshift 6-Speed Automatic w/ Tow/Haul feature | Aisin 6-Speed Automatic w/ Tow/Haul mode |
| Drive Type | 4×2 or 4×4 | 4×2 or 4×4 |
| Module Dimensions | 168″ L x 91″ H x 96″ W | 168″ L x 91″ H x 96″ W |
| Interior Headroom | 72″ | 72″ |
| Aisle Width | 49″ | 49″ |
| Drawings | Download | Download |
| Features | Download | Download |