Designed for High Performance: Severe Service™
The KME Severe Service™ chassis takes superior engineering to the next level. KME's proven design platform serves as a base for a chassis that can handle even the toughest of situations. The Severe Service™ chassis has been extensively tested, with over a million miles of real-world testing. It has also been subjected to high-volume use in extreme conditions and environments. The Severe Service™ chassis provides extreme reliability for some of the country's largest fleets, cities, and fire departments. When conditions are tough, you need the Severe Service™ chassis from KME to provide maximum support to your fire apparatus.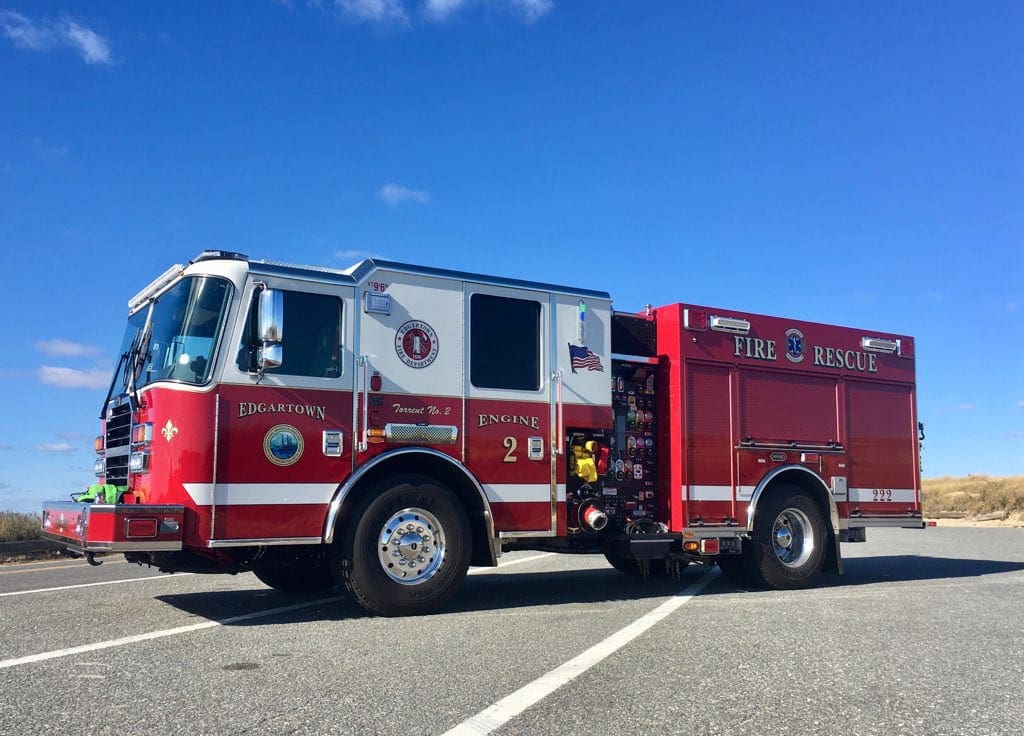 Interior
The Severe Service™ interior is paint-matched with a rugged vinyl upholstered roof, dash and doghouse that provide a durable interior ready for the most extreme service conditions. Beyond its finishes, the Severe Service™ cab boasts double insulation, which minimizes high horsepower heat from the engine and reduces cab noise to 75 db, making it the quietest cab in the fire service.
Seating and Storage
The Severe Service™ cab is available in a variety of configurations, each offering plenty of space to work and maneuver. The cab can be configured into a two-door unit with rear storage, a three door unit command cab, or a four door tilt cab with seating for up to ten firefighters. Options also include either fixed, air, or electric seats. The Severe Service™ cab design provides plenty of head and leg space for its passengers, all while offering numerous options for seating arrangements, storage cabinets configurations, and command desk set-ups.
Firefighter Safety
KME takes pride in offering the best in safety design. The Severe Service™ cab is fully crash tested to ensure maximum protection and durability. It is composed of a ¼" doghouse and 3/16" doors, which sit upon a solid extruded tube structure comprised of ¼" and 3/16" wall thickness. The engineered features of the Severe Service™"chassis/cab, coupled with the optional Rolltek® protection system make it the most rugged and safe cab in the fire industry.
Chassis Specifications
Engine
Cummins L9, X12, or X15
Engine Horsepower
330-600 HP
Transmission
Allison 3000 EVS, 4000 EVS, 4500 EVS*
Front GAWR (Max)
24,000 lbs.
(Disk or "S" Cam Brakes)
Front Axle Suspension
Parabolic or Multi-Leaf, Independent Front Suspension
Cramp Angle
45 degrees (425/65R22.5 Tires)
Rear GAWR (Max)
33,500 lbs. Single
60,000 lbs. Tandem
Rear Axle Suspension
Multi-Leaf, Single, Rubber, Air, Tandem
Drive Configurations
4×2, 4×4, 6×4, 6×6
4×4 System
Meritor T-Case, Dana Power Divider, EZ-Trac Hydraulic AWD
Frame Rail
10.25″
Cab Width
96″, 100″
Cab Length
53.5″, 59.5″, 67.5″, 77.5″
Cab Roof Style
Flat, Raised 10″, 16″, 22″
Seating Capacity
8
Doors
Barrier or Full Height
Side Roll Protection
Default
Frontal Air Bags
Default
Electrical Systems
Hard-Wired or Multi-Plex (Class One, Weldon)
Brochure
Download
*Output Retarder Available