The Strongest Ladders Available: Aerial Rear Mount Platform
Bulldog Fire Apparatus carries the complete lineup of aerial fire trucks from KME, known as the KME AerialCat™. The AerialCat™ platform is manufactured with safety and ease of operation in mind, and the motion control systems provide the best ever built for the fire service. Taking smooth operation to a whole new level, KME is recognized as building the strongest ladders available.
KME fire apparatus rear-mount platform is built at 102′ with some of the shortest wheelbases, overall lengths, and lowest travel heights in the industry.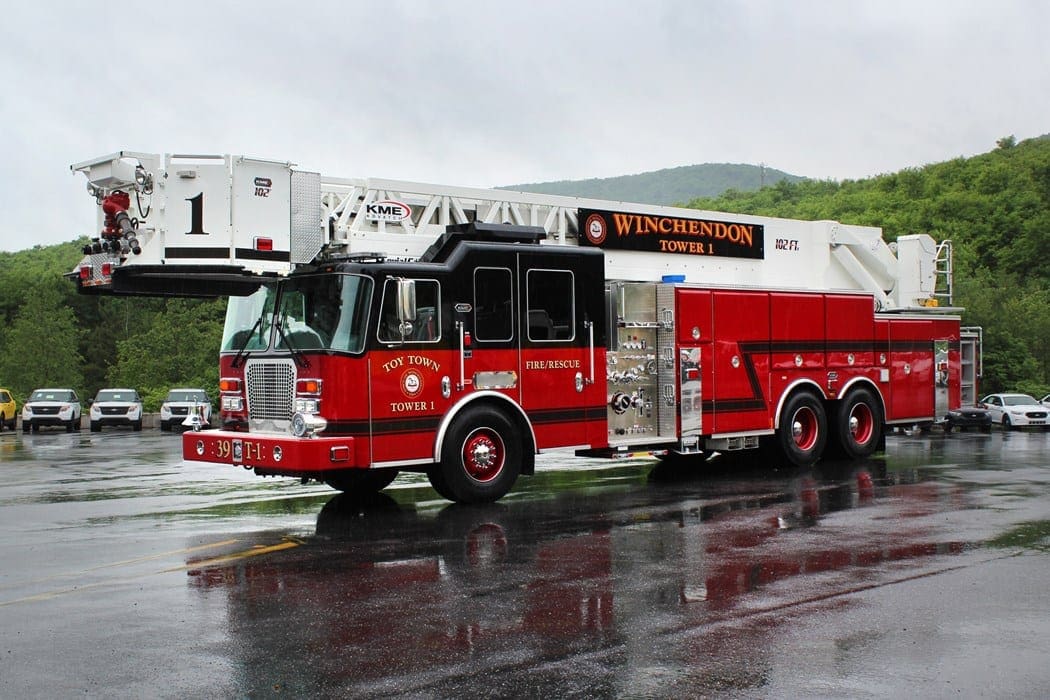 Aerial Rear Mount Platform Model Specs
Big Performance
KME's AerialCat™ rear-mount platform fire trucks offer benefits beyond how high its ladder can reach. It boasts a steel ladder with a lift geometry that allows it to rotate an unobstructed 248 degrees at 10 degrees below horizon without any impact of its platform flow capabilities. This same below-horizon functionality allows the platform to rest on the ground with its ladder fully retracted at only 33' from the base of the apparatus. Fully extended, KME's rear-mount platform can situate its platform a total of 14' below grade at 10 degrees below horizon! The KME aerial rear-mount platform exclusively features a "fail-safe" turntable retention system consisting of a 1¼" bolt that minimizes any stress associated with platform operation in low-level conditions.
Greater Equipment Storage
KME understands that storage is important to those working in the high-risk field of emergency response. Whether the AerialCat™ rear-mount platform unit is used as a first-due quint or as a true truck, its unique storage configurations are designed for optimal efficiency. KME's line of rear-mount platform fire apparatus body configurations provide over 240 cubic feet of storage space, including storage for up to 1,000' of large-diameter hose, as well as an easy-access strait-shot hose bed. Every inch of the AerialCat™ body is occupied by full-height and full-depth storage compartments, designed for the storage of industry tools and equipment. Even while considering its space allowance for an NFPA 1901 or ISO ground ladder, the AerialCat™ provides storage compartments with depths up to 26" – perfect for bulky supplies and equipment.
Flow Rates of over 3,000 GPM at the Platform
The KME AerialCat™ rear-mount platform fire truck is excellent for both industrial and high-capacity municipal operations. It has one of the highest flow rates of over 3,000 GPM from the platform at full extension and elevation, all while maintaining a 250 pound platform weight capacity! Coupled with its amazing power, the AerialCat™ rear-mount platform utilizes the industry-standard KME ladder and an increased waterway with state-of-the-art dual monitors. This unit is entirely self-operational, only requiring a dependable water supply to fuel its powerful flow.
Maximum Leveling Capability
When time is of the essence, KME's AerialCat™ rear-mount fire truck can quickly become operational by just one person. The AerialCat's™ automatic leveling system allows for setup in tight spots with its ability to short jack the outriggers – requiring outrigger deployment on the operational side of the unit only. In addition, the KME platforms can perform under less-than-ideal conditions. KME fire apparatus platforms easily maintain functionality, even at full capacity, on slopes up to 11 degrees. Since its stabilizers can lower a full 19", the KME platforms are so flexible that they can operate reliably virtually anywhere!