Unparalled Strength and Safety: Aerial Rear Mount Ladder
Bulldog Fire Apparatus carries the complete lineup of aerial fire trucks from KME, known as the KME AerialCat™. Working closely with Bulldog and KME, each ladder truck is custom manufactured and can be highly customized to meet your exact needs. The high quality craftsmanship of the AerialCat™ fire truck delivers unparalleled strength with up to a 2.5:1 safety factor. Rear mount ladders range from 79′ to 123′.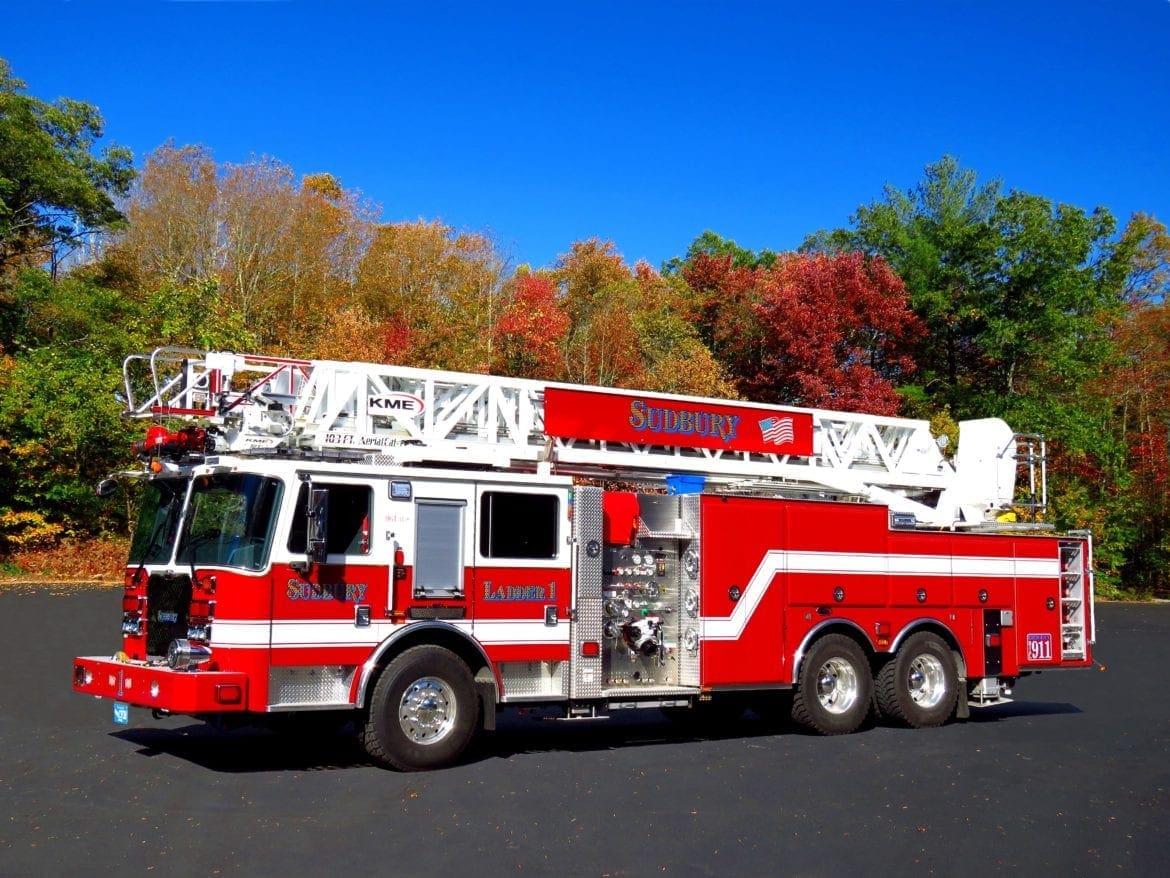 Aerial Rear Mount Ladder Model Specs
Model
Vertical Reach
Horizontal Reach
Rated Capacity
79′ Single Axle
79'
79'
500 lbs.
79′ Tandem Axle
79'
70′
750 lbs.
103′ 4 Section Tandem Axle
103′
94′
500 lbs.
109′ 4 Section Tandem Axle
109′
100′
750 lbs.
123′ 4 Section Tandem Axle
123′
114′
500 lbs.
Brochure
Download the Aerial Rear Mount Ladder Brochure here
Higher Tip Loads and Shorter Outrigger Stance
KME aerial fire trucks are engineered to carry the highest tip loads in the industry. They can withstand winds of 50 miles per hour and a 1/4″ ice buildup on the entire aerial structure. All aerial designs are independent third-party P.E. certified. Aerial configurations are available with 750lb tip loads and outrigger stances as tight as 14′ center to center; if you can open the cab doors, you can fully operate the aerial.
Better Performance Through Better Ideas
Your department wants the flexibility to get the water where it is needed in the event of a fire. KME's Storefront Blitz™ feature allows for a first-floor interior attack. It offers extended monitor travel up to 30 degrees above horizontal. The aerial is also capable of going 8 degrees below horizontal. It is this special attention to the height and width of the ladder section dimensions that makes a rear mount ladder aerial fire truck from KME the perfect fit for your department.
Safety in Climbing
Every rear mount aerial fire truck from KME is designed with safety in mind. The ladders are engineered to provide a clear walkway with no need to worry about excessive cables or wiring installed in the climbing path. The new standard rung covers feature an aggressive gripping surface for your hands and feet, for enhancing stability during inclement weather conditions. Each rung also features photo luminescent bands that light the climbing path in poor visibility situations. The luminescent portions of the rung covers glow for up to 20 hours after initially exposed to light. For additional illumination requests, KME also offers full length LED Lumabar Pathfinder™ walkway illumination lights.