Max Storage, Superior Performance: Walk-Around Rescue
KME offers heavy duty rescues in the highest quality 3/16" aluminum, galvannealed steel or stainless steel. These rescues are the most rugged, custom units available to the fire service. KME's formed body design allows for maximum compartment space (29" deep or transverse) and greater design flexibility. The fully integrated roof, light tower compartments, and walkways ensure a complete one-piece welded unit with unrivaled strength and weatherproof security.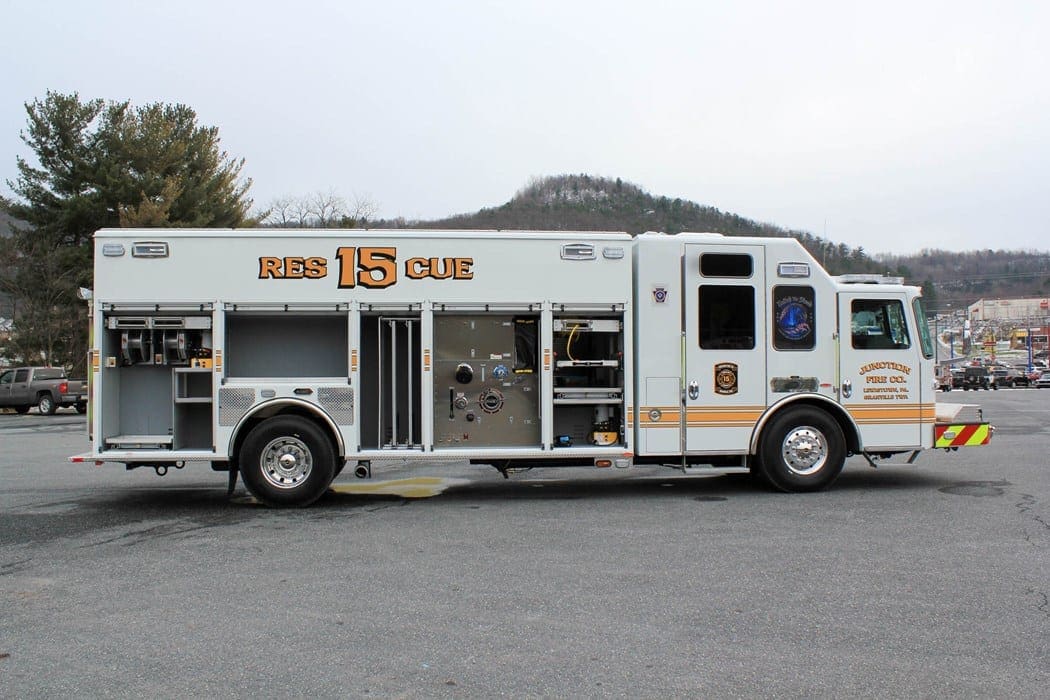 Maximum Storage
KME custom construction makes maximum use of body space by offering transverse and split depth compartments above the frame and small compartments for unique storage which would normally be wasted on competitor models. Formed interior wall panels provide full width compartments, eliminating wasted space experienced with double wall construction.
Flexibility by Design
With your input, KME's commitment is to design a truck around equipment and specific needs. Combining flexibility and design by 3D modeling all bodies, shelving, and accessories. KME builds your department apparatus that is useful from the day it backs into the station.
Bodies Built to Last
KME bodies are not only the most custom, but also the most rugged. By not utilizing pre-determined extruded shapes and sizes out bodies provide stronger construction, ease of repair, and overall flexibility in design.
Features Include:
Customization Capability to Meet Your Requirements
Safety and Reliability Built in Every Unit
Designed to Maximize Storage with Low Center of Gravity
Fabricated Bodies from Galvanealed Steel, Aluminum and Stainless Steel
Short 2 Door Cabs and 3 Door Command Cabs Available
Body Performance and Load Testing Data Available
Hinged or Roll-up Door Body Configurations Available
Custom Accessory Mounting for All Rescue Requirements
Safest Access
To ensure the safest ingress to all upper body storage areas, the KME Walk-Around Rescue design can incorporate integral rear stairways, provide fixed access ladders or pull out stairways to ensure full access to your upper body storage areas.