Designed to Perform with Plenty of Power: The Predator™
The new Predator™ chassis from KME is a product of meticulous design and direct customer feedback from fire departments across the nation. Ushering in the next generation in chassis design, the Predator™ provides improved safety, ergonomics, reliability and ease of maintenance. It also offers a wide range of customization options.
Serving as the single-source for all manufacturing on their units, KME ensures all Predator™ chassis share the same crash-tested cab structure. With this comes the idea that safety is standard on all KME units, but other features can be added or removed to meet your needs and requirements. The Predator™ offers options for power train, seating and storage needs, and apparatus budgets.
Combining superior design and and limitless options, the KME Predator™ chassis is the ideal foundation for any KME aerial, pumper, tanker, wildland, or rescue pumper apparatus.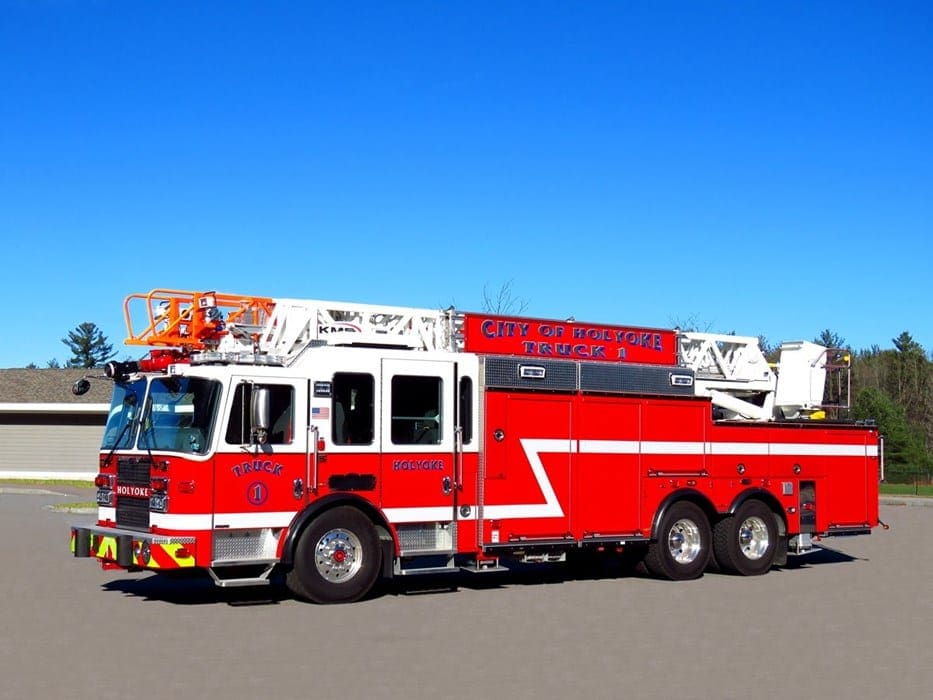 Safety
In addition to its functional design, the KME Predator™ prides itself on the KME standard of safety. The Predator™ cab was crash-tested at the leading third-party crash facility in the nation. The impressive engineering and design of the KME Predator™ chassis has tested to an industry best roof load (120K+), side load (120K+), and frontal impact integrity (2.1 times the NFPA requirements). Also, blind spot detection systems are no available on all KME custom chassis options to create the ultimate safety system package. Occupants of the Predator™ can remain confident in their safety and protection as proven by the outstanding performance in front impact, side impact, and roof load tests.
Customization
KME is an industry-leading, true sole-source fire apparatus manufacturer. Since they do everything in-house, they are able to provide customizations above and beyond their competitors. Each Predator™ cab is built at the KME world headquarters location and customized to exact customer specifications. Each chassis begins with a sturdy substructure design and heavy-duty frame rails. KME then offers a wide range of engines options (ranging from 300 to 600HP), transmissions, axles, suspension systems, and other major components to make the Predator™ uniquely yours. KME's three cab choices, along with multiple options, create more than 350 different custom configurations so our customers get exactly what they want and need. Multiple seating options, cab storage compartments, ABS dash and doghouse, hardwire or multiplex wiring systems, and short or long door options provide departments with a high-quality, well-designed, and truly custom-built fire apparatus.
Ergonomics. Space. Visibility.
Featuring the new "Vista" interior, KME provides the best of both worlds with an easy two-step access for the driver and officer, coupled with more hip and elbow room. Large side door cab windows and wrap-around windshields provide optimum visibility. "Best in class" door width openings and easy to use vertical chrome door loop handles with integral locks are included. When it comes to space, visibility, and ergonomics, the KME Predator™ chassis option has you covered!
Chassis Specifications
Engine
Cummins L9, X12 or X15
Engine Horsepower
330-600 HP
Transmission
Allison 3000 EVS, 4000 EVS, 4500 EVS*
Front GAWR (Max)
24,000 lbs.
(Disk or "S" Cam Brakes)
Front Axle Suspension
Parabolic or Multi-Leaf, Independent Front Suspension
Cramp Angle
45 degrees (425/65R22.5 Tires)
Rear GAWR (Max)
33,500 lbs. Single
60,000 lbs. Tandem
Rear Axle Suspension
Multi-Leaf, Single, Rubber, Air, Tandem
Drive Configurations
4×2, 4×4, 6×4, 6×6
4×4 System
Meritor T-Case, Dana Power Divider, EZ-Trac Hydraulic AWD
Frame Rail
10.25″
Cab Width
100″
Cab Length
62.5″, 74.5″, 82.5″
Cab Roof Style
Raised 10″, 16″, 22″
Seating Capacity
8
Doors
Barrier or Full Height
Side Roll Protection
Default
Frontal Air Bags
Default
Electrical Systems
Hard-Wired or Multi-Plex (Class One, Weldon)
Brochure
Download
*Output Retarder Available