The Mobile Counterpart to a Full Size Pumper
Don't let the name Mini-Pumper fool you. This wildland fire apparatus from KME packs big power into a small package! Constructed around a 1000 gpm or 1250 gpm pump, the Mini-Pumper can move water like a full size pumper – into the places that a big fire truck could never go. Featuring over 180 cubic feet of enclosed compartment space, there is enough room to carry all of the tools needed to get the job done. Like its size, this wildland unit also features a "smaller" price than most other units. It may be just the fire truck your department is looking for if the budget is tight but your needs are great.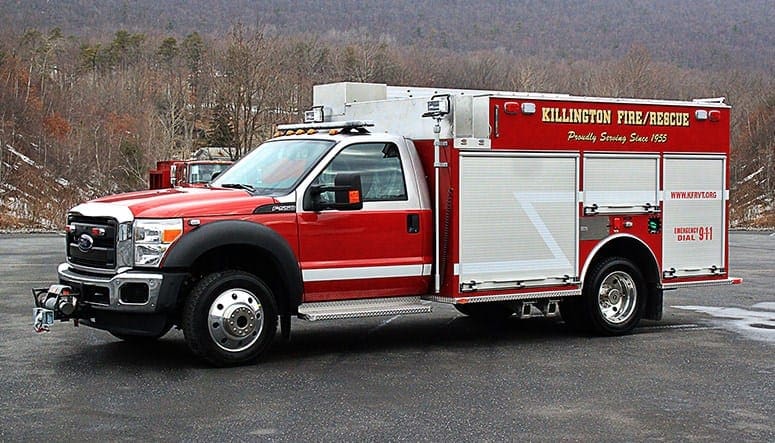 Highly Functional Body Design
Built around a 250 or 300 gallon polypropylene water tank, the standard body on the KME Mini-Pumper includes over 180 cubic feet of enclosed storage space. Side compartments on the fire truck measure 24″ deep from floor to ceiling. A three-section extension ladder is stored in its own compartment that is accessed from the rear of the unit. Above the ladder, you will find another compartment which is available for suction hose, long-handle tools, stokes baskets, or whatever other equipment your department determines necessary. In the wheel well, you can store up to 6 spare SCBA bottles. The standard configuration will allow you to carry an impressive 2000 lbs of equipment!
High Volume Pump
The KME Mini-Pumper delivers the same pump you'd expect on a full blown pumper. It is driven via a split-shaft gearbox from the chassis engine. Pump options includes pre-connects, large diameter discharges and a deck gun.
Wide Array of Options
Customization is a specialty at Bulldog and KME. We will work with you and KME engineers to design the perfect fire truck configuration to meet your needs. Such options might include generators up to 6KW in gasoline, diesel, hydraulic or belt driven under-the-hood, shelving, tool boards, pullout trays, SCBA storage, hose bed covers, scene lighting and much more. No matter what you're looking for, we can customize a fire truck to address your requirements.