Do More with Your Rescue: Combination Rescue
Always being asked to do more with less, today's fire services need an apparatus that is going to respond to that challenge. A Rescue Combination unit from KME answers. Whether it's for equipment storage, a communication area, rehabilitation or another need, Bulldog Fire & Emergency Apparatus and KME will help you custom design your combination unit to suit your specific needs. These rescue vehicles are available in a walk around or walk-in style in either 3/16″ aluminum or stainless steel. The construction process and materials used create the safest, most rugged, custom units available in the fire service.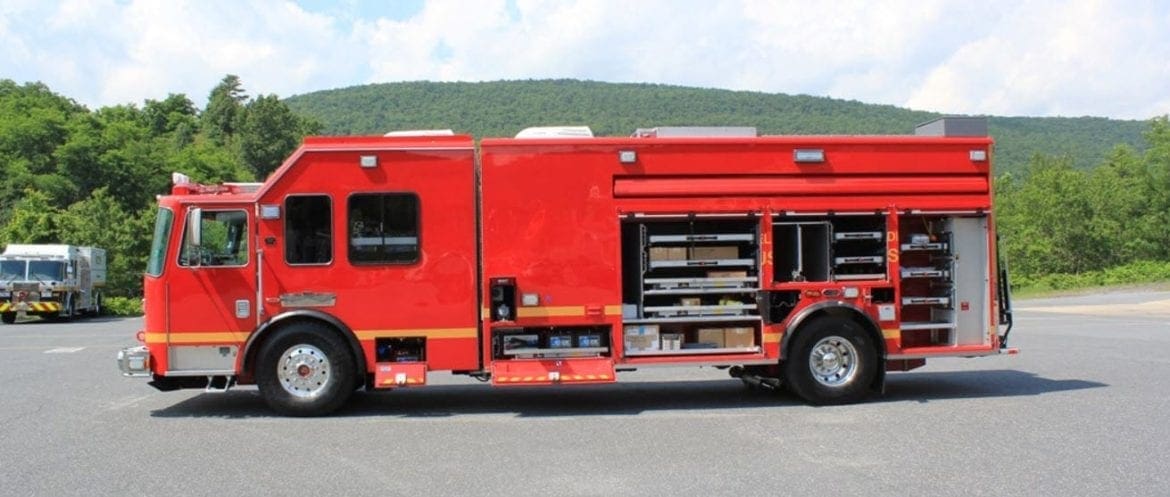 Flexibility by Design
Maximizing space is paramount on a fire apparatus; KME understands this. These combination rescue vehicles offer a climate controlled interior command area, while maintaining the compartment space of a walk around rescue. The unique KME custom construction process creates more usable body space by offering transverse and split depth compartments above the frame and small compartments for storage in areas that would otherwise be useless. Combination rescues also feature a formed body design for standard 29″ deep conventional frame rails and formed interior walls for full width compartments.
Custom Command Centers
Looking to use a combination rescue as a command center? Bulldog and KME can help you design a custom command center that will meet your every requirement with limitless options.
Roof Access
KME offers various roof access options to meet space and safety concerns including fold-out ladders, recessed stairways and pull-out stairways.
Equipment and Tool Storage
KME knows just how important it is to use every inch of space on your unit. When it comes to custom fabrication, they offer unrivaled quality and functionality for equipment and tool storage.
Models Include:
Available on a KME custom or commercial chassis
Custom cab configurations include 2-door with a rear transverse storage compartment, 3-door command cabs, and traditional 4-door models with multiple seating options
Drop down frames in rear are available for easy rear compartment access
Raised roofs are available up to 26" for maximum headroom comfort and maneuverability
KME bodies are available in 3/16" aluminum or 12ga stainless steel in lengths from 13' to over 24'
29" deep, 68" high standard compartments (taller compartments available) with roll up or hinged doors
KME custom construction makes maximum use of body space offering transverse compartments, split depth compartments above the frame, and small compartments for unique storage using space
Compartments may be customized with dividers, shelving, brackets, tool boards, trays and much more
Variations:
KME bodies are available in 3/16" aluminum or 12ga stainless steel in lengths from 13' to over 24'
Single and tandem axles available
Walk-in version for command operations
Full length roof compartments
Recessed light tower storage to protect light as well as reduce overall height
Body mounted or recessed awnings
Breathing air cascade systems