Maximum Leveling Capability: Aerial Midmount Platform
Bulldog Fire Apparatus carries the complete lineup of midmount platform fire apparatus from KME. Allowing your department to maneuver in low-clearance environments, these fire apparatus have travel heights as low as 119″ [9′ 11"]. With several models available, the right one can help you navigate even the tightest areas with a short overall length ranging from 42′ to 47′. Don't let the short overall length deter you on space though, the midmount platforms and ladders all pack a lot in when it comes to storage! On the midmount aerials there is storage for a 1,000′ LDF house, a minimum of 115′ ground ladders, 300 gallons of water and plenty of extra room for your department's equipment.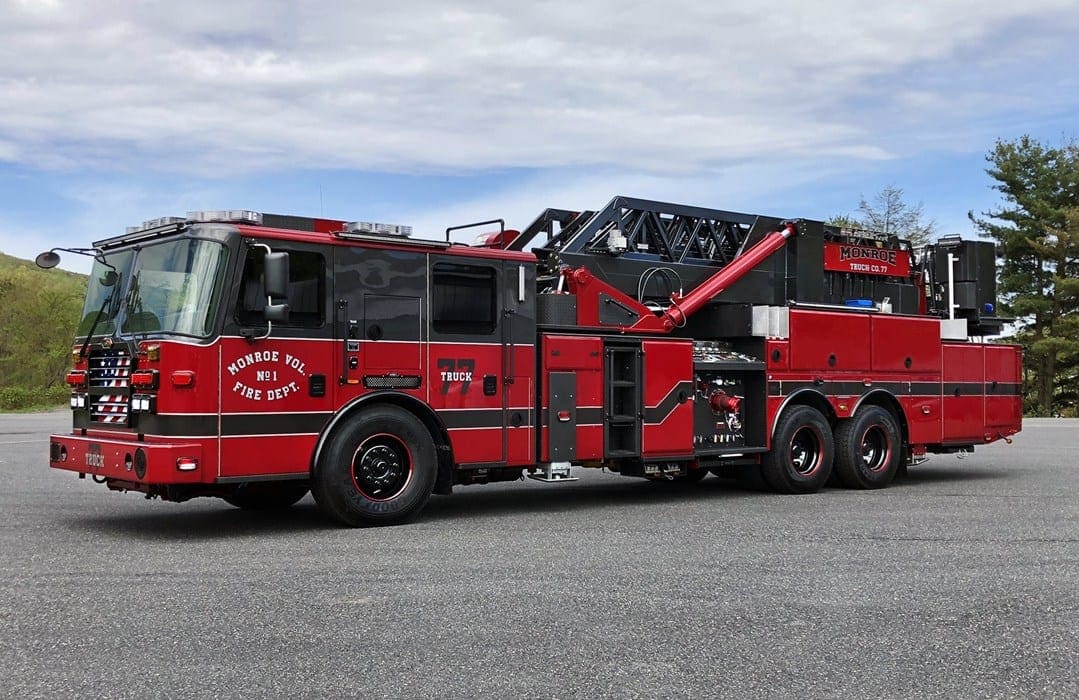 Aerial Midmount Platform Model Specs
E-Control™ Motion Control Systems
All KME aerial platforms feature their exclusive motion controlled electronic system. This system comes standard and provides fire responders with first-class safety and confidence in the operation of their aerial device. The easy to read IQAN color monitor displays an active-load chart, breathing air status, rung and cradle alignment, as well as height, extension, and reach measurements. For optimal monitoring, this information is available on both the turntable and the platform of the fire apparatus.
In addition, the E-Zone™ control system helps protect the apparatus from cab and body collisions, as well as from the accidental rotation over its short-jacked side. KME's E-Speed™ maintains a consistent rotation speed despite extended ladder height, and E-Cush™ provides feathering cushion for the extension/retraction system, elevation system and outrigger functions. Combined, these systems provide superior function, safety and maneuverability of the apparatus.
Ultimate Below Horizontal Performance
With a lift geometry that lets you go 12 degrees below horizontal without any impact on platform capacities or while flowing water, KME's steel ladder is more than impressive. It takes you beyond how high you can go and challenges the possibilities of the unit at low elevations. This same design also allows the 100′ midmount to set the platform on the ground, with the ladder fully retracted at only 29′ from the fire truck!
All of our aerial platform turntables include our "fail-safe" turntable retention bolts. Utilizing a 1 1/4″ bolt that passes through the entire turntable structure, this feature minimizes the stresses of operating the aerial during low level conditions. Unique innovations such as this is what makes KME one of the most sought after names in fire apparatus.
Industry Leading Platform Design
KME now offers standard features that not only add to the functionality of their fire apparatus, but also improve the safety and performance of the unit for its occupants. The newly improved, spacious platform provides adequate room for up to four fire fighters with a large area of 20.8 cubic feet. KME's larger platform design for its aerial fire trucks still offers mitered corners for increased maneuverability and building placement, wherever the apparatus is positioned.
In addition, KME has added a standard third door at the rear of its midmount platforms. This extra door allows for safer access onto the platform from the body without the need to tip-toe around the platform on the outside walkway.
KME also offers several options in addition to its standard features including extra storage compartments, 110-volt lighting, 12-volt lighting, and dual-water monitor designs engineered and manufactured by Akron, Elkhart or TFT. KME's platform design also allows for a 3-in-1 attachment, which provides options for a stokes basket restraint system,high-point change of direction, and parapet roof ladder attachment.