Take Charge of the Off-Road Limits: Interface Pumper Wildland
Looking for an off-road apparatus that has a lot of firepower? The Interface Pumper from KME might be just the wildland unit you're searching for. Carrying up to 850 gallons of water, these units can handle the firefighting tools and equipment you need in places a typical pumper can't go. For the interface zone, these trucks can also be configured for both wildland and structural duties.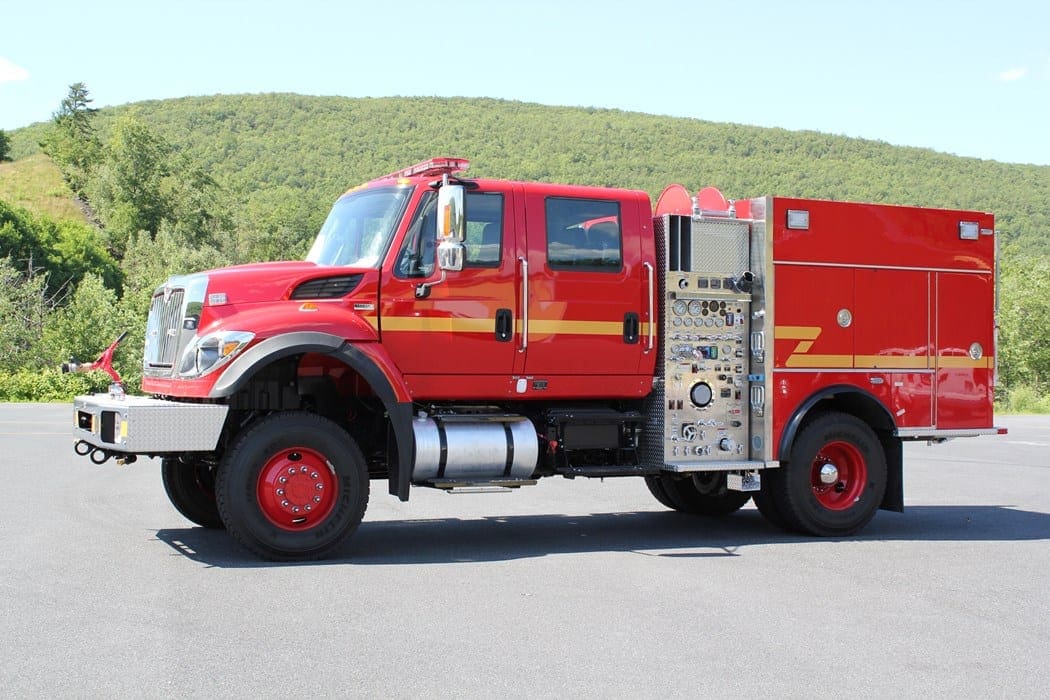 Recognized Performance
Anyone who fights wildland fires for a living knows that the truck they serve in must be designed from the ground up for these special kind of missions; it's not good enough to slap a 4×4 chassis on an on-road design and call it a Wildland unit. KME goes above and beyond, developing packages that meet the requirements of some of the premier wildland firefighting agencies. These include packages that meet the Forest Service's model 326 / 346 / 448 specifications, The Bureau of Land Management's 667 model specifications and CALFIRE model 34 specifications. Take advantage of the wildland expertise that Bulldog and KME have to offer, contact us today.
True Pump-And-Roll
It is important to maintain a consistent flow, no matter how fast the chassis is moving. On a Wildland Quick Attack unit from KME, engineers will work with you to select the proper size pump so that it operates as you expect under all conditions. Whether it's a PTO driven pump, auxiliary driven pump, or a high-volume split shaft pump, KME has the experience to design and build a unit that will perform where you need it to.
Customized Bodies
Regardless of whether you're seeking a true Type 3 of Type 4 wildland-only unit, or an off-road pumper with full structural capability, KME has the package for you. If you don't see that it is available on our website, Bulldog and KME with work with you to design the truck you want.
Features Included:
Safety and Reliability Built in Every Unit
Designed to Provide the Lowest Center of Gravity
Fabricated Bodies from Galvanealed Steel, Aluminum and Stainless Steel
Stainless Steel Water Tanks or Poly Water Tanks Available
On-Site Tilt Table Testing Available to Verify a Safe Overall Design
Stationary Pumping, Pump and Roll, or Engine Driven Pumps
All Designs are Fully NFPA Compliant as Required