Demers Type I Ambulances are Built for the Long Run
Demers offers a variety of Type I ambulances to meet the needs of your department. These units are built for the long run, leading the industry for total costs of ownership and the best resale value. Built for both crew comfort and occupant safety, Demers ambulances provide innovative standard features to make your job easier. With superior overall design and craftsmanship, Demers Type I vehicles combine safety, innovation and quality – all with the goal of getting you home safely.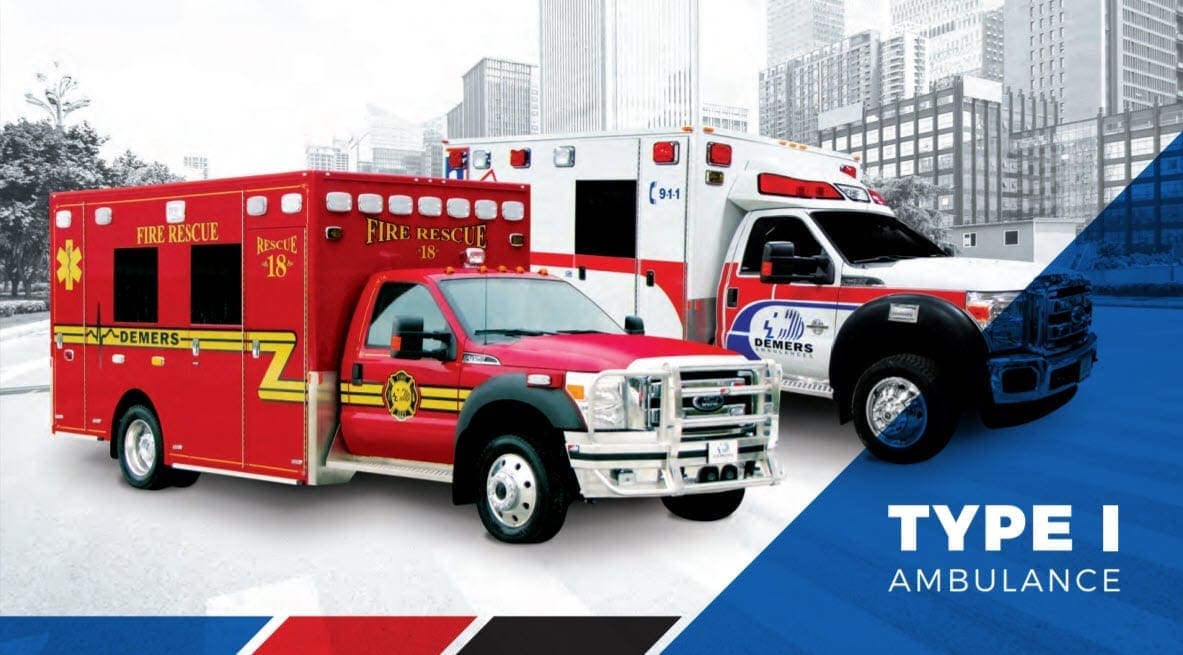 Ecosmart Options Available with the Demers Type I Ambulance
Demers Type I ambulances also boast an Ecosmart line to help EMS services reduce their costs, save fuel and have a positive impact on the environment. With their aerodynamic roof design, you can save up to 8% in fuel costs, and an anti-idling system delivers additional savings of $1,500 to $2,000 per year. Built with lightweight materials, Demers Type I ambulances also get more on the resale market. Every detail counts, and Bulldog is committed to saving the environment—and lives.
Demers Type I Ambulance Models
MXP 150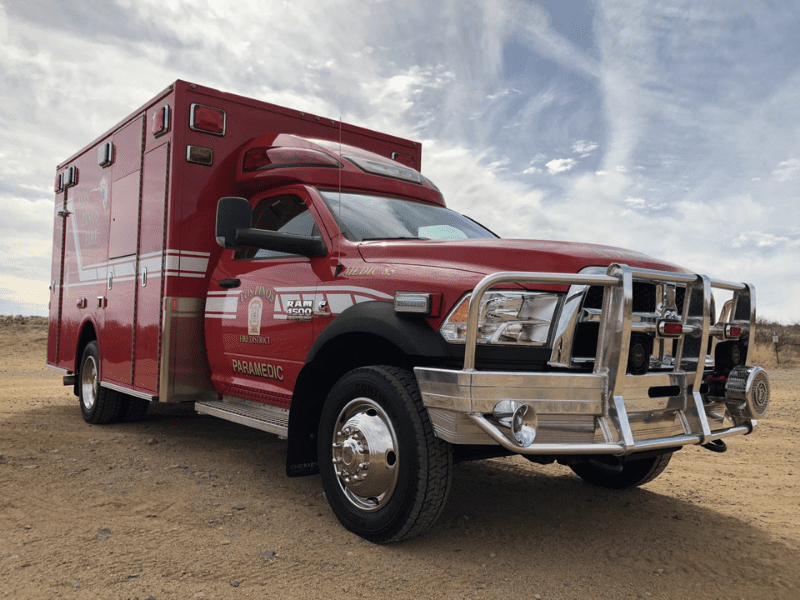 Built to handle a wide range of conditions and environments, the MXP 150 combines a rugged exterior with top-of-the-line design details, like superior insulation and isolation from the harsh elements. From its features to its functionality, Demers MXP 150 Ambulance is ready to elevate your patient care experience.
Notable Features
Spacious front cabin with pass-through window
Spacious compartment (ALS) on front wall with adjustable shelves and lockable drawer
More standard features than comparable Type I ambulances
(Optional) Aerodynamic roof design with incorporated full LED warning lights for increased intersection visibility
MXP 170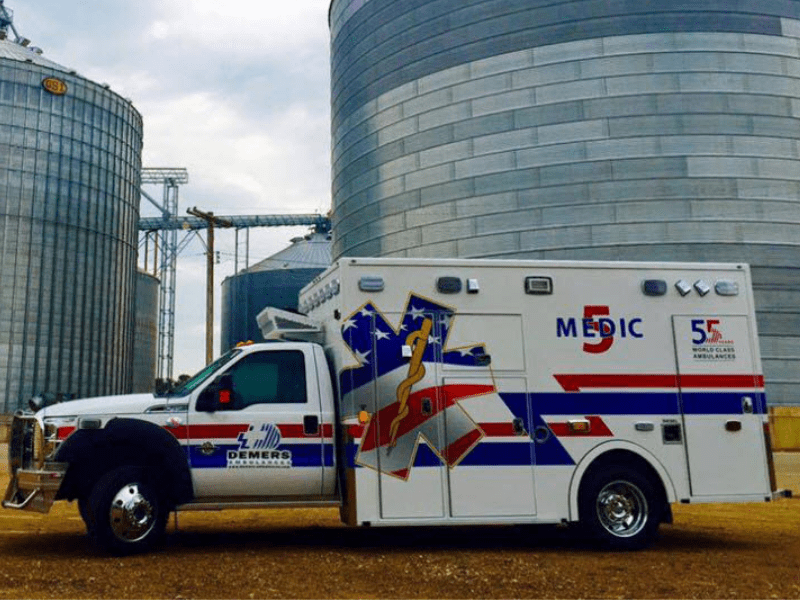 Beyond taking on extreme conditions, Demers MXP 170 Ambulance blends versatility with a spacious interior full of exclusive design features. The MXP 170 comes with many different standard elements, such as LED-lighted cabinets, adjustable ALS cabinets, a sliding hidden walk-through door and much more.
Notable Features
Most available payload in its class
Expanded ALS cabinet with ample storage
Dual HVAC ducted system
Thermoformed and seamless seating
Numerous customizable interior layouts
MXP 153 Arctic Range Edition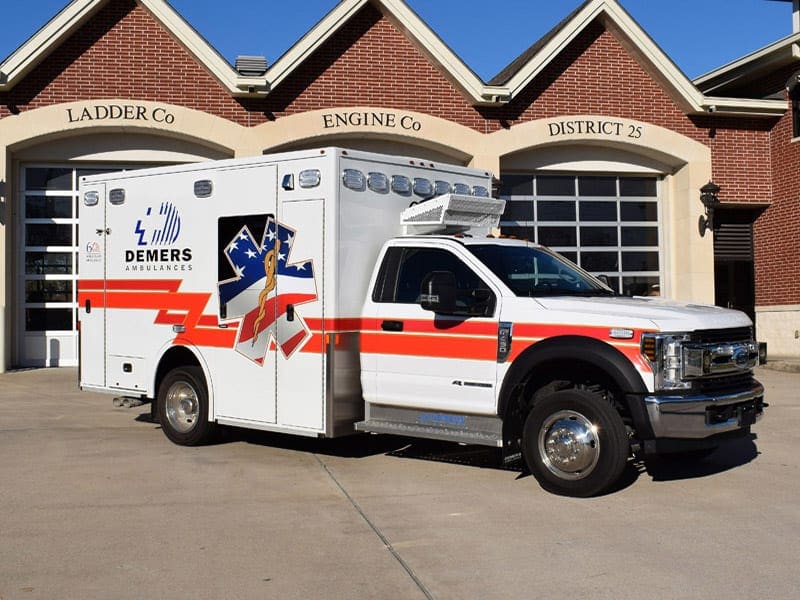 Designed with warmer climates in mind, the MXP153 Arctic Range Edition features premium climate control offering patients and crew a cooler, more comfortable ride. This Type I ambulance includes Demers' coldest HVAC system and the industry's most efficient insulation package. Every department in the South should consider the MXP153 Arctic Range Edition as their next ambulance; demos are available to experience the "chilling" effects in person!
Notable Features
Dual Climate Control
GVS Certified
Ecosmart idle reduction system
Safety First Seating
Sealed Compartment
O2 Storage
Mobile Stroke Unit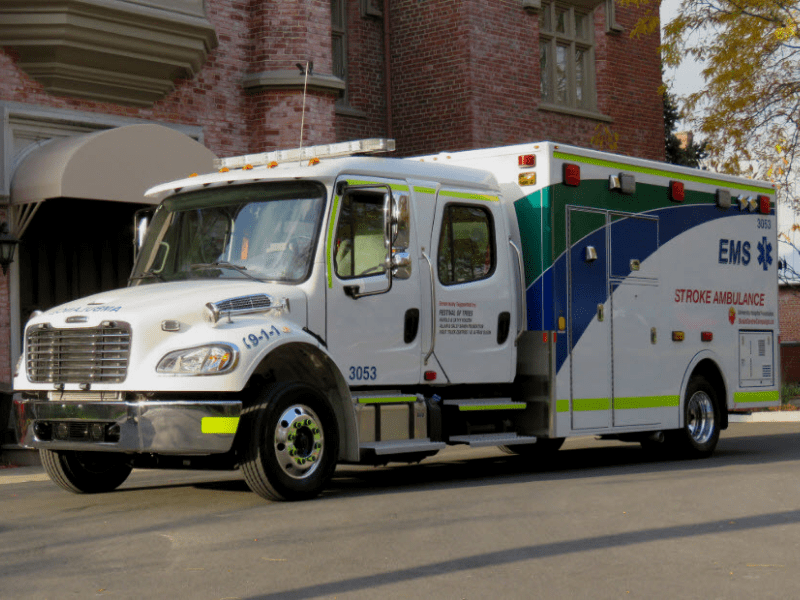 A mobile stroke unit can shorten the time between stroke onset symptoms and treatment delivery. Instead of utilizing a standard ambulance design and simply inserting a CT scanner with safety nets, Demers mobile stroke unit is completely designed around the CT scanner and stroke treatment. Equipped with integrated video and audio capabilities, Demers mobile stroke unit enables EMTs on board to share information with physicians while they are en route to the hospital.
Demers Type I Model Specifications
| | |
| --- | --- |
| Overall length* | 285″-291″ |
| Overall width | 95″ |
| Overall height** | 110″ |
| Headroom | 72″ |
| Chassis | Dodge 4500, Ford F-350/450, GM 3500 |
| Drive type | 2X4, 4X4 |
| Wheelbase | 162″-168″ |
| Payload capacity | Up to 4,500 lbs |
*- Depending on chassis selection
** Total height of vehicle may differ according to chassis and suspension
| | |
| --- | --- |
| Overall length* | 294″-311″ |
| Overall width | 95″ |
| Overall height** | 110″ |
| Headroom | 72″ |
| Chassis | Dodge 4500/5500, Ford F-450/550, Freightliner M2 |
| Drive type | 2X4, 4X4 |
| Wheelbase* | 174″-192″ |
| Payload capacity | Up to 5,500 lbs |
* – Depending on chassis selection
** Total height of vehicle may differ according to chassis and suspension