Value and Performance: Elliptical Tanker
Bulldog Fire & Emergency Apparatus carries the full line of KME Elliptical tankers. These fire trucks range from the simple water hauler with no pump, to the fully loaded tanker tank with pump, preconnects and hose storage areas. As with all of KME's units, the tanks and apparatus used are designed to meet and exceed NFPA 1901 requirements. The manufacturer's top priority is keeping firefighters safe on the job and arming them with the apparatus response to the best of their ability. KME Elliptical tanks ensure safe operations whether driving the unit full, partially full, or empty of water. The tanks used are designed to provide rapid filling and dumping of water for fast response.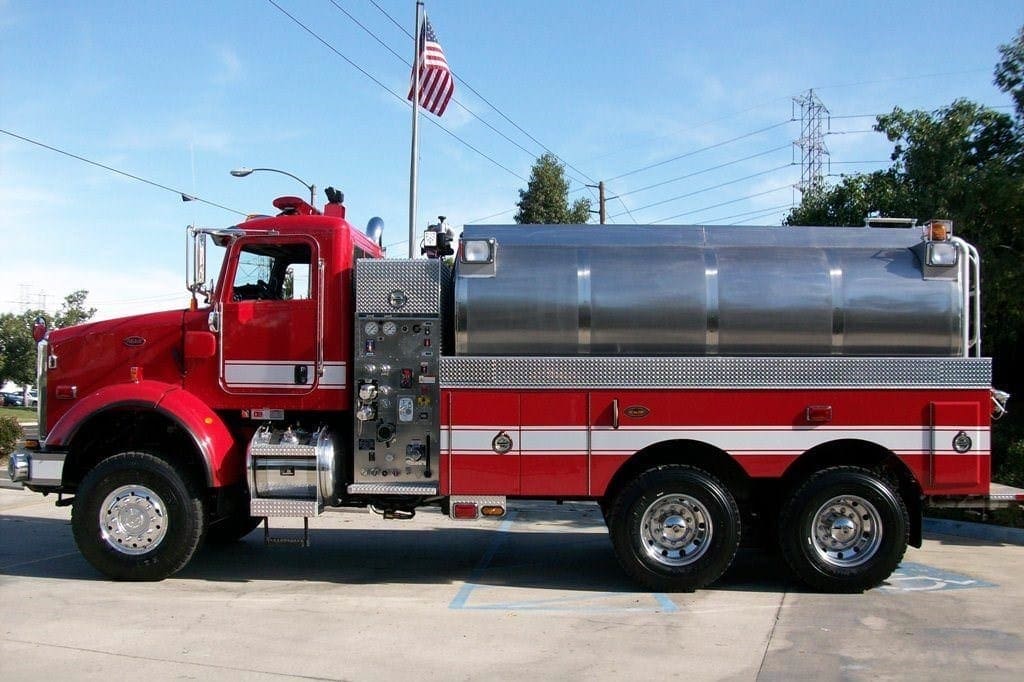 Broad Range of Tanks
KME provides a wide variety of tank options for your new Elliptical tanker. Stainless steel tanks are available in a single wall brushed, painted, or double wall mirror finish. Poly tanks come in bare, painted or mirror wrapped finishes. Fiberglass tanks come in color injected, painted or mirror wrapped. On a tandem axle apparatus, you can outfit your unit with a tank up to +4000 gallons. For a single axle unit, up to 2300 gallon tanks are available.
Ample Storage
KME Elliptical tankers offer exceptional storage with unrivaled compartment options. Bodies are custom engineered and fabricated in galvannealed steel, 3/16″ aluminum, stainless steel and treadplate. External, enclosed and through-tank options are available for suction hose, ladders and pike poles.
Reliable Delivery
KME offers the widest range of dump options to aid your fire service in unique water supply and water movement challenges. Pumps are available in manual, electric and pneumatic controls. Pumps can be positioned forward of the axle, behind the axle, between the axles on tandems, as a rear tank or as a rear triple dump.
Features Included:
Custom Configurations with Tank Capacities up to 4,000 Gallons
Optimum Weight Distribution on Custom or Commercial Chassis
Low Center of Gravity Tank Design
Maximum Equipment Storage Available
Low Travel Heights Available, Even with Large Hose Load Requirements
Multiple Dump Valve Options Available
The "Safest" Tanker Attributes Available