A Dependable & Versatile Tanker
The CJ Tanker fire truck allows you to shorten the wheelbase of your fire truck in order to get your crew anywhere they need to go with all of the equipment they need. This vehicle is built to last and will ensure that your crew is well-equipped to handle any emergency that comes their way.
Fouts Bros. is committed to bringing you dependable, affordable, customizable response vehicles that are tailored to your department's every need. Choose from 2000 or 3000 Gallons of water and customize the wheelbase to make it easier to operate and drive no matter the conditions.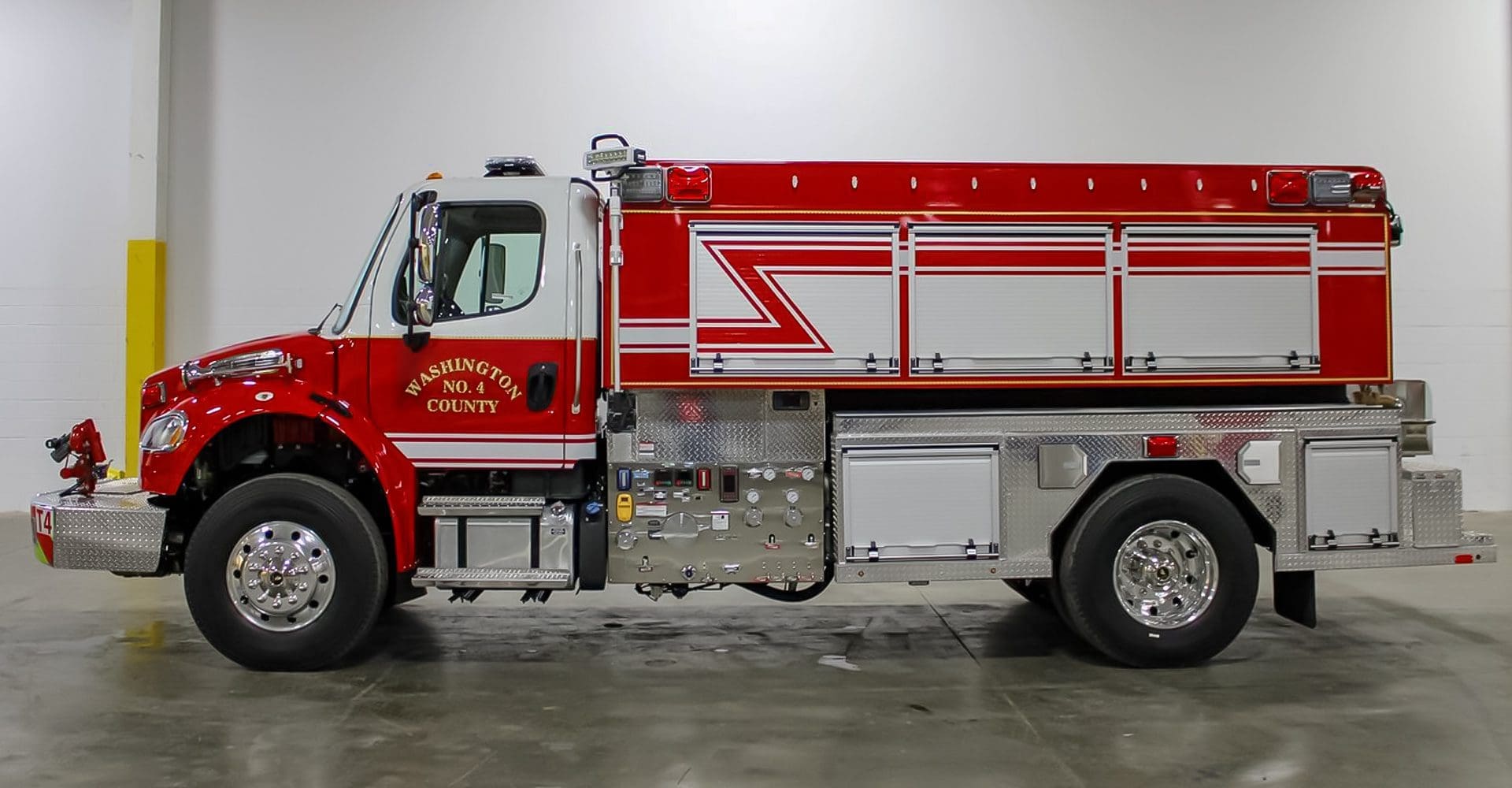 Exceptional Service
Fouts Bros. is known for developing new products that create industry best value, quality, and dependability. They are committed to providing our customers with the best service, specifications, and delivery times.
Fouts Bros. has been focusing on their clients needs for over three decades. They've engineered their fire and EMS vehicles to have capacity for a wide variety of options which gives anyone in the market for a new fire truck the ability to customize the apparatus to their specific needs. They also are committed to providing ease of operation, training, and maintenance.
10-Week Production Standard
You can ensure that you will receive your truck in a timely manner when you order a Fouts Bros. vehicle because a typical purchase order to delivery lead-time is 4-6 months. They are committed to their-week production process, which is applicable to most standard truck designs. They involve all departments in the preparation and specification session before the trucks are committed to the production schedule, so you will have a clear understanding of the timeframe in which you will receive your CJ Tanker fire truck from Fouts. Bros.
Best Value
Fouts Bros. offers EMS and fire vehicles that cost less and are built better. They have designed a wide range of standard line model trucks that have created the best values in the industry. These Standard models include some of the best fire equipment brands in the country, making them not only industry best value, but also dependable. The CJ Tanker is part of the original Fouts Bros. standard tanker lineup which have set the production and engineering standards for the company.
Specifications
Chassis
Kenworth (Standard)
International
Freightliner
Peterbilt
Engine/Transmission
380 HP Cummins Engine
Allison 3000 EVS Transmission
Tank
3000-gallon or 2000-gallon Fol-da-tank
Easy access to Fol-da-tank
3000 Gallon or 2000 Gallon UPF Poly-Tank
Two (2) 2 1/2" Direct Tank Fills
Storage
Mounting blocks for additional equipment
Pump
Darley
Hale
Pump Controls
Side Kick Pump House on Drivers Side
Tank Size
Available in 2000, 3000 and 4000 gallon capacity
Electrical/Lighting

Class 1 ES-Key Elec Control System
Whelen LED NFPA Lighting/Siren Package

Additional Features

Larger pumps—up to 1000 GPM.
Multiple Dump Valve Configurations
High Side Compartments
Deck Gun
Federal Q2B Siren
150-foot Hannay Electric Rewind Booster Reel