High Capacity Fabricated Front Steer Axle System
The STEERTEK NXT Front Axle and Suspension System is optimized to provide maximum performance and riding capability. Hendrickson, an industry leader in manufacturing suspension systems, has launched the STEERTEK NXT system on the following KME custom chassis: pumper, tankers, rescue, and aerial. This suspension system combines an innovative spring clamp and a fabricated box-shaped axle to allow for an increase in performance, and reduction in weight. The customization also maximizes ride comfort, adds durability, increases maneuverability, and reduces maintenance.
Add the STEERTEK option to your KME fire apparatus for a better turning radius, longer service life, and an improvement on roll stability. The only limits to be aware of when adding this include:
May not be available on trucks, like aerial ladders, that have a travel height limit due to the STEERTEK's 2" increase to the travel height of the cab.
Incompatible with truck's that have a front driving axle
Incompatible with cabs that measure 60" or less from the front axle to back of the cab.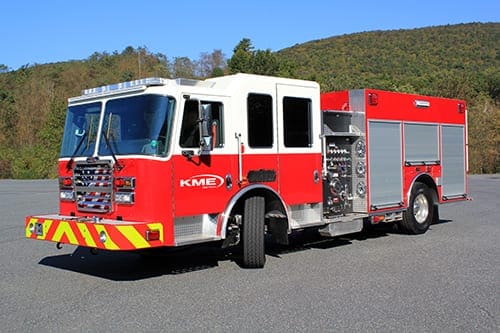 Watch this Peabody Fire Truck Turn in and Out of the Bulldog Service Bay with Ease!
Learn More About the STEERTEK NXT Option for KME Trucks!
Maximized Ride Comfort and Handling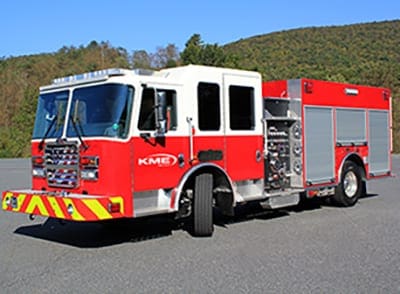 To provide optimized comfort, the custom-tuned STEERTEK NXT is manufactured with parabolic leaf springs which help to produce maximized handling. This system also provides a progressive rate bump stop, which enables units to handle high dynamic loads without the harshness of impact.
Increased Maneuverability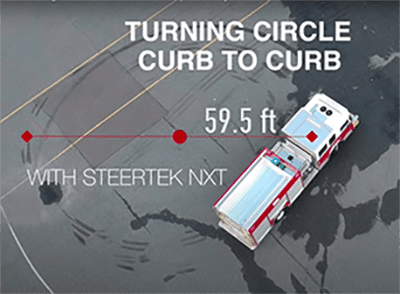 With a 45-degree wheel cut and 10% improvement in turning ability, the STEERTEK NXT achieves a tighter turning radius and an overall increase in maneuverability. Providing more than 7ft extra clearance in one full turn, turning curb to curb is 56.5 feet.
Reduced Maintenance
The STEERTEK NXT system makes service simple because there is no need to worry about constant maintenance. The one-piece knuckle design eliminates the need to remove the kingpin to service the bushings. There are also no U-bolts to retighten, which reduces maintenance by a significant amount.
Added Durability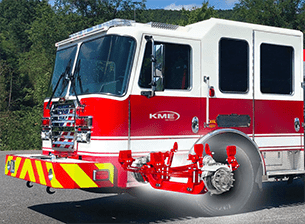 KME STEERTEK NXT utilizes an innovative spring clamp and a fabricated box-shaped axle beam allowing for a reduction in weight and an increase in performance and durability. The front axle, supporting up to 24,000 lbs., consists of a continuous beam architecture to minimize stress points and a fabricated cross-section with a 100 ksi plate.
STEERTEK NXT Fire and Rescue Specifications
| | |
| --- | --- |
| Model | STEERTEK NXT for Fire and Rescue |
| Configuration | Single Axle |
| Capacity (lbs.) | 16,000 – 24,000 |
| Installed Weight (lbs.) | 1,655 |
| Axle Beam Drop² (in.) | 3.74 |
| Kingpin Intersection (in.) | 70.87 |
| Ride Heights (in.) | 8″ – 11″ |
| Break Options | Disc or 16.5×6 Drum |