A New Generation of Wildland Apparatus: RidgeRunner™
The KME RidgeRunner™ combines the full capacity of a Type I pumper with the flexibility and off-road performance of a Type-3 for an exceptional wildland fire apparatus. These trucks can take the fight to the fire, designed to meet the full requirements of a Class A pumper (including all ISO requirements) without sacrificing off-road performance. A KME RidgeRunner™ will assist your department in fulfilling multiple missions in a single truck. They are available in both mid-ship and rear mount pump configurations.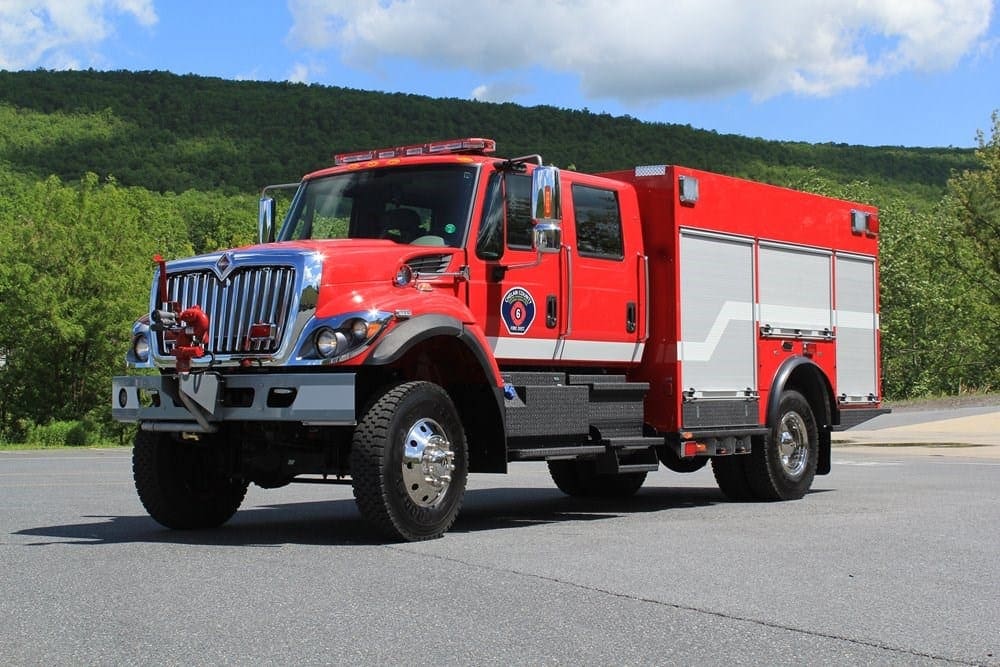 Hale Interface Pumping System
The specially designed interface pumping system on the KME RidgeRunner™ provides a 1500 gpm NFPA rating and a deck gun for high flow requirements. However, when you get in the cab and move the truck, you immediately have pump-and-roll capability of 100 gpm at 150 psi. That is enough force for several forestry handlines and / or a remote controlled turret, and is maintained regardless of how fast the truck is moving. You no longer have to worry about surging or lost performance as the unit travels, helping you meet the requirements of both structural and wildland environments in one fire truck.
Off Road Options
The KME RidgeRunner™ can be configured the way you want it to handle any off-road mission. All units feature low reconnects directly accessible at the front of the body for use in both structural pre-connects and/or forestry lines. Mount options for the hose reels are at the rear of the body or under the cab doors on a four door commercial cab. Looking for the ultimate in off-road attack? A front bumper mounted turret that can be fully controlled from the inside of the cab is also a popular option. Additional customizations include ground sweeps, hard covers for the hose bed, class A foam and more. Whatever you're looking for… KME offers it! Also, don't forget about the 23° angle of departure and 24″ ground clearance on the body sides.
Plenty of Storage Space
As with all of KME's units, storage is king on the RidgeRunner™. This wildland unit features 29″ deep compartments with 200 cubic feet of enclosed storage in the side compartments alone! The top of the body can accommodate an all readily accessible roof ladder, folding ladder, extension ladder, and hard suction hose. All use convenient and safe access ladders that fold out of the way while the fire truck is in motion. Built tough, this body with full-height rescue style compartments will ensure you show up on the scene with all of the tools you need to get the job done!
Features Included:
Safety and Reliability Built in Every Unit
Designed to Provide the Lowest Center of Gravity
Fabricated Bodies from Galvanealed Steel, Aluminum and Stainless Steel
29″ Deep Compartments Standard with 200 Cubic Feet of Storage
On-Site Tilt Table Testing Available to Verify a Safe Overall Design
Standard Stationary Pumping Plus Pump and Roll
Pump and Roll Available at 750 Engine rpm or Walking Speed
Tilt Table Tested at 30 Degrees and Fully Loaded