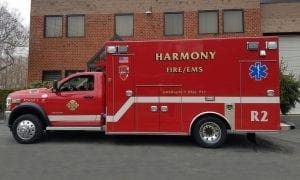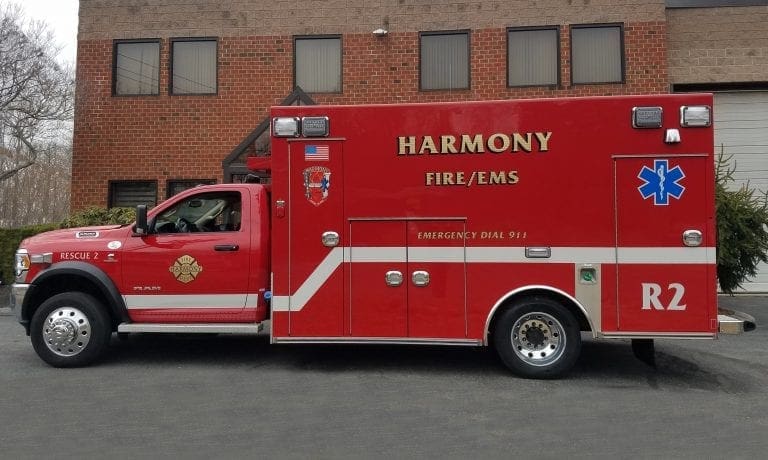 Harmony Fire District has taken delivery of a Braun Chief XL Type I Ambulance!
The Chief XL is one of the best-known ambulances in the industry. The model provides optimum room, storage, and comfort. This model was build on a RAM 5500 chassis.
This Braun Ambulance unit is loaded with special features including:
Liquid Spring Suspension
Lifetime Structural Warranty
Custom Cab Console
Fully welded in cabinetry
UV Air Purification System built into the Heat/Air conditioning system
ACP Vista Screen System
20 Amp Shoreline Auto Eject Inlet
Rear Backup Camera
Interior and Exterior Whelen LED lighting with KKK compliant Flash Pattern
Sound Deadening Package
Exterior Oxygen Storage with EZ O2 Tank Lift
Customized Cabinetry
CPR Technician Seat with built in child safety restraints and swivel base
Full Length Squad bench with built in storage underneath
Electric Oxygen System with Ohio Medical flush mounted, quick release outlets
Seamless all aluminum interior and exterior
Knox MedVault
Stryker Power Load and Stretcher
Plymo Vent Adapter
Custom graphics package
Customer Supplied GO Light installed by Bulldog
Vanner 20 1050 Inverter
Technimount Parts
Thank you to Harmony Fire District for working with Bulldog Fire Apparatus!